23 January 2018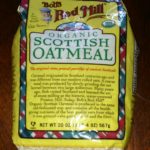 Mary-Catherine's mother thoughtfully ensured that the 'Bed and Breakfast' where we were staying had a supply of porridge oats for my breakfast. The cook didn't know how to prepare porridge! I was going to have to teach her.
For the first two days of our stay, we fixed our own breakfast because of the snow! The cook was unable to reach us! So, I made the porridge. I read the writing on the packaging with great interest.
It was called, 'Bolts Red Mill Organic Scottish Oatmeal'. In the top left hand corner of the package, there was a photograph and a signature for Bob Moore with the greeting, 'To your good health!'
Underneath there was an interesting legend. 'Many years ago, Bob visited Scotland and learned the art of stone milling at the historic, water-powered Preston Mill.' I couldn't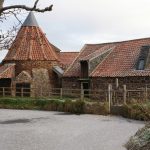 believe my eyes! Hence the 'Red Mill' in the title.
There was more. 'Today, Bob's Red Mill Organic Scottish Oatmeal is produced in the same old-fashioned way …'  Can it be true that these oats are ground between two large millstones in the old Scottish way?
It seemed extraordinary to me that I had travelled four and a half thousand miles from Scotland to Texas only to discover that Bob had travelled before me at least sixty years ago to discover a secret treasured within my parish, a few hundred yards from my manse!
It was worth our travels for the oats tasted absolutely delicious – and a memory stimulated of the Preston Mill with its characteristic long arm of friendship binding Scotland to America through the gift of Scottish oats!