19 September 2018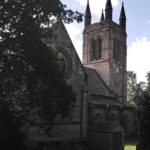 When we visited Helmsley Parish Church in North Yorkshire, we discovered an important link with the church in Scotland. On one of the walls, there was a framed handwritten letter from the nineteenth century. The ink had not faded, the writing was still legible.
It had been written by Dr. David Livingstone on 14 July 1863 to Mrs. Gray, the mother of the Revd. Charles Gray, vicar at Helmsley. She had made him a mosquito curtain. He thanks her for her kindness and says how much he admires the invention!
In the letter he confessed that 'the greatest and most unaccountable folly of my life was travelling all over this Continent without ever once thinking that the pest could be escaped from.'
At the end of this personal letter, he shares his victorious joy over the mosquito!. 'I laugh as they dash themselves against the meshes. Many thanks for your kindness. I start for the Lake tomorrow.' Her husband was the first Bishop of Capetown.