There are changes in the countryside. Some harvesting has taken place – barley has been cut and a contrast created between the golden brown of the earth and the sky blue above. Traprain Law is in the distance standing where it has stood since time immemorial!
Autumn is creeping in at the edges of the parish. Some leaves have turned brown and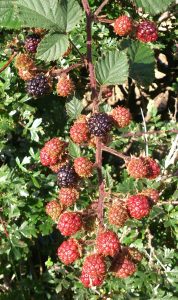 orange and the brambles are beginning to fruit – tasty, especially before breakfast where recently harvested blackcurrants from the walled garden contrasted tartly with some fresh strawberries.
But I don't notice everything. Incest in the parish! 'Did you see the newborn calf in the corner?' asked the farmer's wife. I hadn't seen a thing! 'Despite our best efforts, the bull impregnated his daughter and produced a son!'
Apparently, the son is doing well but will not be used for breeding. 'Do bulls not have any morals?' I asked to much laughter. There doesn't appear to be 'A Table of Kindred and Affinity' for them. But  as for me, my inexpert eye is fooled into overlaying the farmyard with an inappropriate innocence!