We are hoping Sunday School will resume soon – watch out for more details.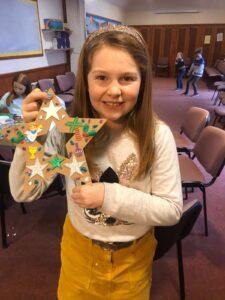 Prestonkirk Sunday School is for all children aged 3-12 years and is currently led by Fiona, Sue, Gill, Chloe & Aimee. Using materials from Scripture Union we read, craft, draw, bake & play whilst learning about God and the life of Jesus.
Sometimes we take part in the Church services; playing instruments, reading from the Bible or acting in the Nativity. We often join in at the end of a service to celebrate Holy Communion, a Christening or other special event.
At the moment we are not meeting during the service as The Stables remain closed. However, Fiona is sending out emails to keep in touch and share resources to help families explore the Bible and learn about God together in their own homes. This includes links to messy Church, Muddy Church, holiday clubs, BB activities and other events through 'Children and Youth Ministry'. (The Church of Scotland)
If you are interested in receiving emails and/or joining our Sunday School or if you would just like some more information, please contact Fiona.
Email: fiona.byrnes@yahoo.co.uk
Mobile: 07748183176