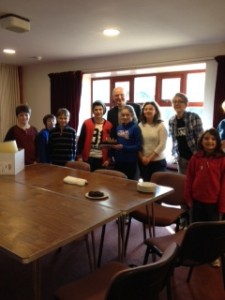 2014 – Christmas Term
Another truly fantastic term!   We learned all about how God protects us and helps us make the right choices.   A very valuable lesson for us all.   We had more fun together than ever this term and achieved so much.   The celebrations started with our Minister's very special birthday.   We surprised him with a cake and candles and shared it together during our lesson.   There was nothing left but crumbs!
Our 4U group raised a over £400 for the Bethany Homeless Shelter with their bake and craft sale.   Not bad for a morning's work and they were nominated as "heroes" for the week by Bethany Trust.   Well done 4U!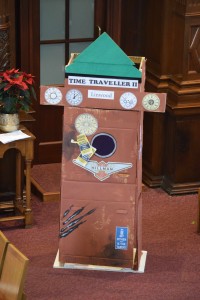 And of course our Nativity.   We had lots of fun rehearsing, everyone had a part to play, parents and children alike.   Donald was such a brilliant leader and his hard work really showed on the morning of 14th December when it came to life in Church.   The adventure was in a time machine……
It all started in 1904 with Captain Hook and the Lost Boys.   There was a bomb in Church!!!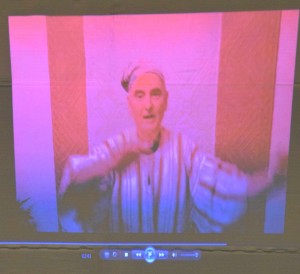 We then quickly travelled to 1984.   There was a famine in Africa.   We made our very own version of Band Aid's "Feed the World" and projected it in the pulpit!   The Minister was one of the top stars!   The whole congregation joined in; it was truly wonderful!
Then is was off to 1914, that was the year that should never have been.   We remembered World War I and the famous Christmas Day truce.
Then off we spun to the future – 2054 where we met a very old Peter Pan and Wendy!
All along the way, we remembered that God is with  on all of our journeys and all of our travels.   We remember the birth of the baby Jesus, God's own son and how he died on a cross to save our sins.
Phew!   Well after all that we were ready to wind down, but not before our Christmas party and of course a visit from another very special person!
2014 – Autumn Term
What a quick term!   Time surely does fly when you are having so much fun!   This term we learnt about Jesus' amazing healing power and our stories were from Mark's Gospel.   We also celebrated our Harvest with the sun shining through the Church window as we once again wowed our congregation with our fantastic singing and showing off our great big home made vegetables!
2014 – Summer Holidays
We had another fantastic summer filled with fun and sunshine!   Our "Mega Makers" holiday club was as action packed as ever.   Our stories were from Matthew's Gospel and we loved our "Mega Makers" song.   We had lots of fun making our Mega Machines, we really surprised ourselves with our creative inventions!   Sarah and Aimee kept us on our toes with our aerobics and there was lots of healthy competition amongst us with our many games and of course the parachute! Once again, our many regular attenders received much deserved awards at our Attendance Awards Ceremony, and we shared a very beautiful moment together during Heather's Welcome to the Lord's Table Ceremony.
2014 – Winter Term
We started the year feeling very refreshed after all the festive fun!   There's no better time to focus on Jesus, how amazing he is as we learnt that if we trust our faith in him, he will always be faithful to us.   We also explored God's plan to spread the good news and how we can continue to do it too.   We celebrated another wonderful Mother's day as we sang our song in Church and gave out our lovely bookmarks that we had so much fun making.
2013 – Christmas Term
Christmas is always such a busy time for everyone. At Prestonkirk Sunday School it is no different. This year our Nativity was "Yuletide News", and we practiced very hard each week. Once again, the stars of East Linton shone brightly with wonderful singing, acting, reporting, narrating and even dancing!  
At Prestonkirk there really is something for everyone. In our Natvity starred the children, parents and grandparents too. A true team effort! There wasn't a face without a smile that day. What a magical way to celebrate the birth of our Lord together! In amongst all this, we still managed to find time to party. We all had a great time – well deserved after all our hard work!
2013 – Autumn Term
There is no end to the fun we have at Prestonkirk Sunday School. After a fantastic summer, we were all ready to start the new term and learn all about John's Gospel. We know that Jesus gives us all life and when we trust in Him, he will love and protect us and give us what we need. As always, we have enjoyed singing in Sunday School and we delighted the congregation with our harvest song. We even brought our new "home made" friend, Mr Scarecrow along. He had borrowed some clothes from one of our teachers. We thought we could even see a slight resemblance….
2013 – Summer Holidays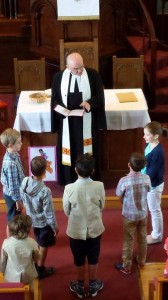 It's been a spectaculour summer and we have all enjoyed the lovely weather!   Whilst Sunday School was on holiday, we have still been very busy.   We have had our Holiday Club which was brilliant fun.   We heard the wonderful stories from the Book of Daniel, we learned many new facts about space, made rockets, carved soap sculptures, baked space balls, had fun with the parachute in the park.   There was not a minute to spare! Alot has been happening in Church over the summer too.   We've had workshops to explore the Sacrament and our Welcome to the Lord's Table Ceremony.   Our many regular attenders received much deserved awards at the Attendance Awards Ceremony, and there has been lots of fun activities in the stables each week too.
2013 – Summer Term
Wow, what a fantastic summer term!   This session, we celebrated the amazing fact that God has victory over death.   We have discovered God's promise to bless us all for ever – we must trust in God to keep his promises and be thankful that God heals people. We also had a fabulous Sunday School picnic.   The weather was very kind to us, so we were able to enjoy our usual fun races – although the Mummies and Daddies got a little competitive with this!   We also played rounders, had lots of fun in the park and ate lots of yummy picninc food too.   It get's better every year! Our prize giving was the best ever!   We shared with the congregation all that we have done over the year and sang our much loved Harvest Samba one last time.   We also shared our very special Sunday School prayer, which we wrote ourselves.
2013 – Winter Term
Despite the freezing cold weather that has been the first 3 months of this year, we have kept ourselves warm knowing that God is listening to our prayers and wants us to talk to him.   We know that Jesus always did everything well, but we have learned that like you and me, he was modest too.   We have also learned that pleasing God may not always please other people, just like when Jesus healed the crippled woman on the Sabbath even although it upset the Pharisees – people and their needs always came first for Jesus.   In healing the woman, Jesus had freed her to worship God. We ran eagerly into Church each Sunday during Lent to hear the next chapter in the story of the circus, Emil and Drol the clown.   We have enjoyed participating in Church during this period with our Lenten Prayers and Mothering Sunday when we ran around Church giving every mother's daughter a very special gift of lavender inside cards which we had so much fun decorating the week before.   We remembered our mothers, how much they love us, care for us and all they do for us with our beautiful singing of our Mother's Day Song. Of course, the most important event of all – Easter!   And Easter Day day did indeed bring us a new beginning – spring had finally sprung!   As the sun shone and brought us such a beautiful Easter Sunday, we enjoyed running around the Manse Garden in search of many chocolate surprises!   What better way to enjoy such a celebration!
2012 – Autumn Term October – December
This was a busy term indeed!   We worked extremely hard on our Nativity, "Michael Mouse".   The story featured a little mouse called Michael who had heard all about the birth of the baby Jesus from his friend the Owl.   Michael wanted to go to the stable to see the baby Jesus.   All of the other animals were going – the Hen, the Sheep, the Cow and the Cat, and they all had presents to give to the baby. There were some other, more traditional visitors with gifts too (along with some funny looking shepherds)….  
But poor Michael had nothing to give.   And none of the other animals would share their presents, or allow Michael to accompany them to the stable.   Eventually, Michael curled up into a little hole in the stable wall and began to cry…  But then it happened!   By sitting in the hole, Michael had saved the baby Jesus from the cold draught that had been blowing in.
  He had given the greatest gift of all – HIMSELF!   What a wonderful lesson for us all to remember at Christmas. All of the children's hard work paid off – the play was truly fantastic and was enjoyed by all, especially the children themselves.  The acting was professional, narration word perfect and of course, all beautifully accompanied by the chorus.   East Linton surely has many talents… We also enjoyed this fun-filled time of year at our Advent Workshop, where we made candles, baked biscuits, learned our new song, "Candle in the Window" and set the beautiful Nativity Scene in Church.   And last but not least, we had our fantastic Christmas party!
August – October
This term we learned about the importance of choosing God's way and that if we trust and obey God, he will provide for us.   We also worked very hard together on our Harvest Samba, which we sang beautifully in Church at our Harvest Thanksgiving Service, and was thoroughly enjoyed by all !