J-Team
Please note the J-Team is not meeting at the moment.
The J-Team meets in the Village Hall, Stenton on Wednesdays 4-5pm. It is a club for Primary School children. A dozen people work alongside the minister in groups of three every week. The programme includes crafts, games, DVD, worship and, of course, juice and biscuits.
This term, we have been looking at the DVD 'Miracle Maker'  and have organised  a fun packed hour including crafts, DVD, games in hall and park, food and drink and a series of tales about Jesus, the Miracle Maker.
We had some wheat left over from the Harvest. The stalks were soaked in water before being plaited in this way. Colourful ribbons were added.The members of the J-Team made these beautiful Harvest Blessings and took them away  to hang up at home.
When we were talking about the memories which the friends of Jesus recorded in the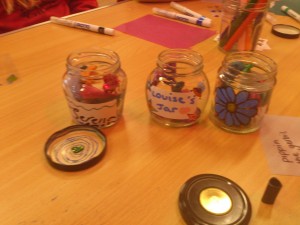 gospels, we made up some Memory Jars. These old jam jars were decorated with special pens. Memories were written down on tissue paper and stored in the jar. The children loved treasuring their memories and taking them home to share with their families.
As you can see from this little group of J-Team members, they have been having a lot of fun. They decided to create their own tableau for the photographer! The sun was pouring into the Village Hall casting its autumn light over them all. We managed to get out to the park afterwards with the parachute!
This group is more studious. They are busy making their Memory Jars. Some of the
work has been very carefully done as you can see from  the photograph above.  They are working here with Christian who is taking time to encourage them to express their own ideas – and they have lots! Usually, we begin with a craft activity and move into the tales from the Gospels, finishing with juice and biscuits and games. Favourites include the parachute and Touch Ball. Although the rules for the latter are very simple and few, the referee doesn't always have an easy time!
The tale for the day was the resurrection of Lazarus – not quite an Easter theme but a celebration of new life. To begin, Irene and Susan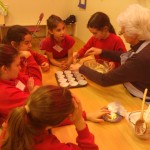 helped the young people make Butterfly Cakes together with the butter icing and the wings. Some of the children had never made them before. They were a great hit – not least when it came to eating them up. One child loved them so much that she wanted to take one home to her dad. But they were all gone!
J-TEAM PATCHWORK QUILT
At the J-Team, we listened to the tale about Moses and the ten commandments.  The children were given a square of white cloth and some fabric pens. They were invited to choose a number between one and ten and draw it on the square.
Then they had to think about themselves and what they liked to do. Once they had decided that, they had to draw something to do with their hobby. If your number was six, you had to draw it six times and so on.
When the white squares were finished, Mary-Catherine sewed them together alternating them with some colourful squares of fabric to make a J-Team quilt. It's not finished yet. The children have still to sew on some decorative buttons.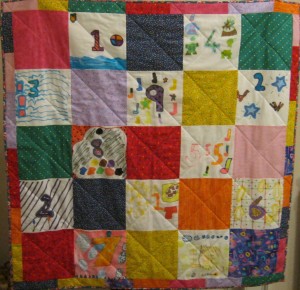 Here you can count the numbers from 1-10 and more!  Inside these white squares you can see some symbols for the hobbies which the children enjoy. The numbers remind us of the rules for living. The symbols remind us of the individual children.
There are four important things about the J-Team quilt.
Everyone counts! They not only count from 1 to 10 but they count as individual people who like to play hockey or swim or dance or paint.
Everyone is part of a larger whole! One square on its own is beautiful but it's not as beautiful as all the squares joined together to make a colourful patchwork quilt.
The numbered blocks are important. These are our rules for living. There's no peace without them. But the blocks of colour  are important too. There are no numbers, no rules in these blocks, just love. God's love is multi-coloured to embrace every colour of skin under the sun!
The quilt enfolds us in its warmth! That's what quilts are supposed to do – and communities too. They are like colourful patchwork quilts bringing the warmth of God's love to those who don't seem to count anymore in our broken society and busy world.
What a thrill to belong to such a vibrant, colourful community bound together by the multi-coloured love of God who shows us how to love Him and to love our neighbour. So count me in! What about you?