TWINNING CELEBRATION 2016
NAXALBARI CURRY NIGHT
On Saturday 19 November 2016 the Community Hall in East Linton was full for our fifth Naxalbari celebration.  This was in the form of a curry night which was so successful the first time we held it in 2013 that we decided to do it again.  The format was the same as the last time with the lovely Indian food being enjoyed by everyone.  The tables were gaily decorated in Indian colours.  Our entertainment was provided by an Indian dancer who wowed us with her skilled performance and also we were delighted to have Birendra Rongong  once again who kept us enthralled with his stories, bird calls and train station noises!
We were able to send some funds to the Thomas Memorial High School in Naxalbari for them to acquire some camera equipment.  They had previously sent us some photographs, which were on display, of the school, children and teachers which had been taken using a mobile phone.  Surprisingly the quality of the photographs was very good.
Thank you to all who participated in making the evening such a success.
Naxalbari Twinning Group
TWINNING CELEBRATION 2015
STRAWBERRY CREAM TEA
We combined the celebration of our twinning with our Summer 'Songs of Praise' at Whittingehame Kirk on Sunday 28 June. The theme was 'In Every Corner Sing' taken from George Herbert's poem, 'Let all the world in every corner sing, my God and King.'
We considered four different corners –
1.Salem and Erella's work with Yasmin, across the unholy wall
2.Naxalbari and our twinning with the Pastorate in North India
3.Holt and our links with First Presbyterian
4.Christian Aid.
The Younger family joined us. Joe and Jake had cycled with their dad sixty miles from Edinburgh to Glasgow and raised £265 for  Thomas Memorial High School in Naxalbari. We all met together in Allison Cargill House after the service where we enjoyed a strawberry cream tea prepared by the Naxalbari Support Group.  We watched the 12 minute DVD Hugh Trevor filmed of the Naxalbari Pastorate when he was there last autumn which brought the twinning alive to us all and gave the members of the congregation an update on our continuing twinning.  Recently money was sent to the pastorate for the purchase of another two computers for the school.
TWINNING CELEBRATION 2014
NAXALBARI QUIZ NIGHT

To celebrate the third anniversary of our twinning with Naxalbari we held a quiz night in the Stables.  We had a full house and our mental faculties were severely tested with a range of general knowledge questions.  We enjoyed Indian snacks and our raffle prize was a hamper of Indian goodies.  A very pleasant evening was enjoyed by all those who attended.
Recently one of our members completed a 20,000ft tandem skydive to raise funds for charity, some of the money raised will be sent to Naxalbari to purchase computers for the school.
TWINNING CELEBRATION 2013

NAXALBARI CURRY NIGHT
On Saturday 16th November 2013 the Community Hall in East Linton was full for our second Naxalbari celebration.  This was in the form of a curry night with funds raised going to support the training of young girls in needlework and boys in mechanics in Naxalbari.
The tables were gaily decorated in Indian colours and the walls were decorated with artwork which the P6 class at the local primary school had done on Diwali.   The children had also made clay candle-holders to decorate the tables.
A wide range of the congregation was represented at the celebration.
Our menu for the evening included the following
STARTER / ENTREES
Poppadoms with Dips – Raita, Mango Chutney, Sweet Chilli Sauce, Hot Chilli Sauce.
MAINS
Malai  Wali  Murghi  Chicken
Chicken Hyderbadi
Lamb Passanda
Rasa kayi   Vegetable curry
Allu Dum    Potatoes
All these curries are mild if you prefer a hotter taste add fresh chillies.
BOILED  RICE NAAN BREAD
DESSERT
Vanilla Ice-cream with Mango Coulis
Fresh Pineapple
It was a delicious meal enjoyed by all.
Birendra Rongong was our entertainment for the evening.  He entertained us on four instruments – the sitar, guitar, drums and bamboo pipes.  He kept us enthralled with his stories, bird calls and train station noises!
As a result of this splendid evening a considerable amount of money was collected to support the new training project in Naxalbari.
Thank you to all who participated in making the evening such a success in all ways.
Naxalbari Twinning Group
TWINNING CELEBRATION 2012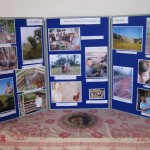 On Tuesday 18 September 2012, we celebrated the first anniversary of our twinning with the Naxalbari Pastorate. People were free to come and go at leisure throughout the evening. Barbara  together with Elizabeth, Maeve, Lynda and Chloe provided a rich assortment of Indian dishes both savoury and sweet to whet our appetite and to set the mood for the evening.
There were several displays on farming, Fairtrade, Indian ornaments and costume as well as a brilliant selection of letters, photographs and visionary ideas from Stenton Primary School. It  has  agreed to twin with Thomas Memorial High School which is attached to the church.
We watched a brilliant DVD about Naxalbari prepared by Hugh  who visited recently. Priscilla, who comes from Gangtok, helped to root our celebration in reality and shared some illuminating insights with us about Indian life. James, who keeps in touch with an agriculturalist from Darjeeling, compared  farming life in Scotland and  India in a helpful way.
A good crowd attended and what was so heartening was the diversity of the people who were attracted to share in this new relationship – children and adults, people from all the corners of our parish – Stenton, East Linton and Whittingehame, members of the kirk and people from the community.
It turned out to be such a warm-hearted evening with a lot of people playing a vital part in it all not least the Twinning Group whose hardwork paid off remarkably. Thanks be to God for such faithful kirkfolk and the opportunity to enrich our life together in this new relationship spanning the globe!
 Information about our twinning arrangement with Naxalbari
For the past ten years, the Presbytery of Lothian has been twinned with the Diocese of Eastern Himalaya, North India. About ten charges have been linked to corresponding charges in the diocese. On 18 September 2011, Traprain was twinned to the Naxalbari Pastorate  in the South Western Plains area,  near the Nepal Border.
The Twinning Co-ordinator at Naxalbari is Rajesh Khalkho who is Acting Headteacher  at the Thomas Memorial High School at Naxalbari. The Presbyter overseeing all seven congregations in the Pastorate  is the Revd. Santosh Murmu. Naxalbari is the largest. The other six are considered to be daughter churches. There are 200 families altogether. 70 families belong to Naxalbari and there are around 100 worshippers there every Sunday.
Elizabeth and John Cowan, Margaret Jeffrey and Barbara and James Wyllie all agreed to be on our Twinning Group. Recently, we have added Libby Jeffrey and Jane Steven to our number. During the past year, we have fulfilled  the Twinning Group's six aims and objectives approved by the Kirk Session and are presently seeking to develop them further.
1. to pray for the Naxalbari Pastorate
2. to communicate regularly through our Twinning Correspondent
3. to develop relationships with other groups and institutions in kirk and community eg Primary Schools, Sunday School, Guild etc.
4. to commit to sharing resources
5. to organise an annual Twinning Day around 18 September
6. to visit Naxalbari