29 December 2018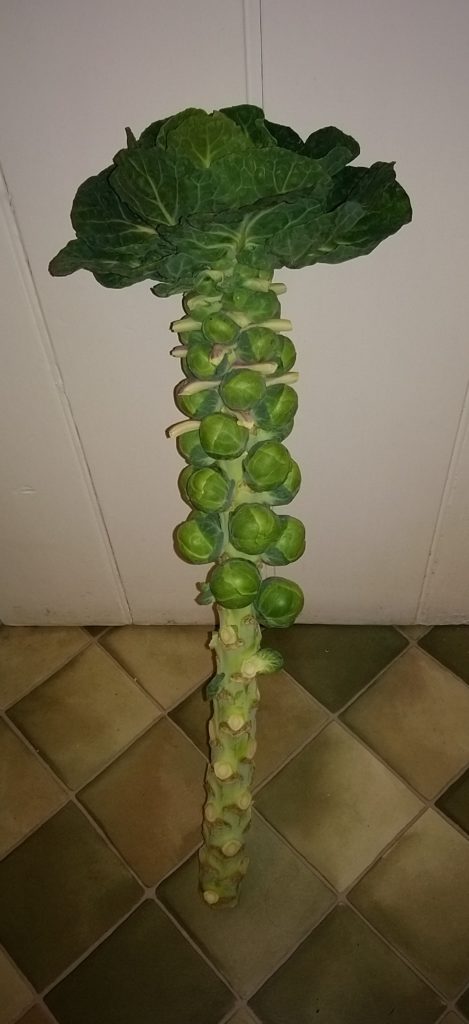 As usual, we had brussels sprouts with our turkey and all the trimmings. They were particularly good this year. We didn't need to wait in line at Asda or Tesco to buy them. They simply arrived at the back door unannounced and unexpected on Saturday night.
As you can see from the photograph, there are still some left and we look forward to consuming them shortly. But you can also see that the sprouts didn't arrive in a plastic bag (God forbid!) nor a paper bag (save our trees!) but on their stock!
This is surely the greenest mode of arrival – and to be commended. This was the spirit of Christmas greening the earth and enfolding the gift in generous anonymity. Who was this unseen green grocer?
There are lots of brussels sprouts being harvested in one of the fields at Knowes at the moment? Others are harvesting sprouts from their gardens for they can lie undisturbed throughout the winter and don't need to be harvested until eaten.
We greatly appreciated the gift and are intrigued by its anonymity. It makes us wonder about our neighbours and friends and casts them all in a beautiful light. For someone looked upon is with favour and blessed us with the love which came down at Christmas!