23 March 2019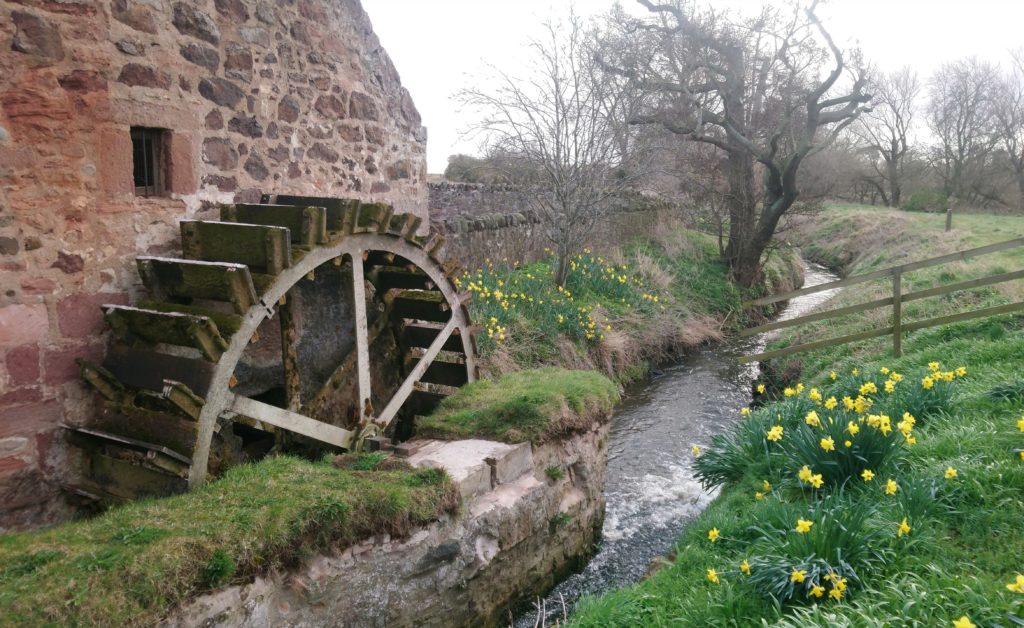 The snowdrops are dead but they have lived among us so hopefully for three months. The crocus blossomed brightly in our wintry desert but not for long. The daffodils are early and blooming in profusion.
I saw a broken egg-shell on the path down to the Preston Mill. The pigeons are ahead of the game producing young every month of the year! The pussy willows are out confirming the health and well-being of the willows on the banks of the Tyne.
The mill wheel is silent and still. It doesn't look very healthy. One of the wooden blades has broken off. A lot of moss has attached itself to some of the others. Apparently, the mechanism which allows the wheel to turn broke over the winter.
The National Trust has created a crowdfunder page to raise the £12,000 required to fund it. A substantial donation has been promised by an American fan of 'Outlander' which was filmed at Preston Mill in 2014! The goal has almost been achieved.
I didn't hear about this initiative until I read about the American's donation in the local paper. Whilst it's good that people all over the world contribute to these things, framing the initiative by a TV series fails to recognise the mill's historic place within the corporate memory of our community.
Winter gives way to Spring. Flowers blossom and trees bud. The birds sing early morning songs to their lovers, build nests and fledge their young. 'Outlander' will fade from the world's memory but the community will still be here watching and waiting as it has done for three hundred years whilst the mill wheel turns and turns again.